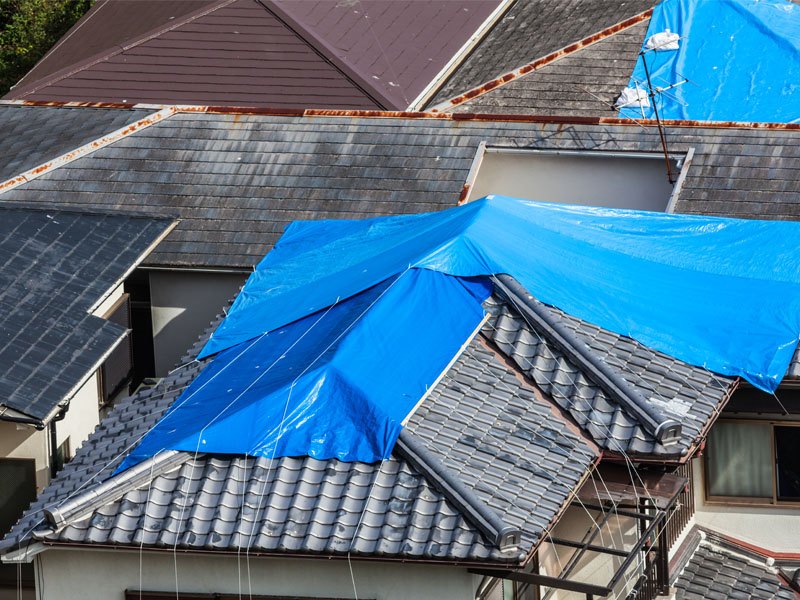 Emergency Tarping Services
Need emergency tarping services? Severe storms can cause irreparable damage to your property, and getting back to normal can seem like an insurmountable task. That's why Trident Restoration Inc., your local emergency restoration company, is here to help! We offer emergency tarping services for those in and around the Richmond, Indiana area who have been affected by storm damage or other natural disasters.  From tarping roofs to tarping windows, our team of experienced professionals are ready to help you get on the path of recovery and minimize damage as much as possible.
What is Emergency Tarping?
Emergency tarping is a service provided by us that helps protect damaged properties during a storm or after one has passed. The tarps are placed over broken windows, holes in roofs and other areas where the structure has been compromised by wind, rain or hail. A tarp will prevent any further damage from occurring while repairs are being made; it's an easy solution that can save you a lot of time and money. It's also the best solution for urgent repairs to ensure no more water can get into the home and create water damage or mold in your living spaces.
Why Choose Trident Restoration Inc.?
When it comes to emergency tarping services, you'll find it's harder to find a quicker team than Trident Restoration Inc. Our experienced staff members have years of experience dealing with storm-damaged properties and know exactly what steps to take in order to provide the best possible protection for your home or business. We also use high-quality materials that are designed to withstand the elements so you can be sure that your property will be safe until repairs can be made.
Trident Restoration Inc.'s emergency tarping services make it easy for property owners in Richmond, Indiana and surrounding areas to restore their homes and businesses after a storm disaster. Our crew has the knowledge necessary to provide quality service with minimal disruption to your life, so don't wait any longer! Contact us today and let us help you get back on track as quickly as possible.