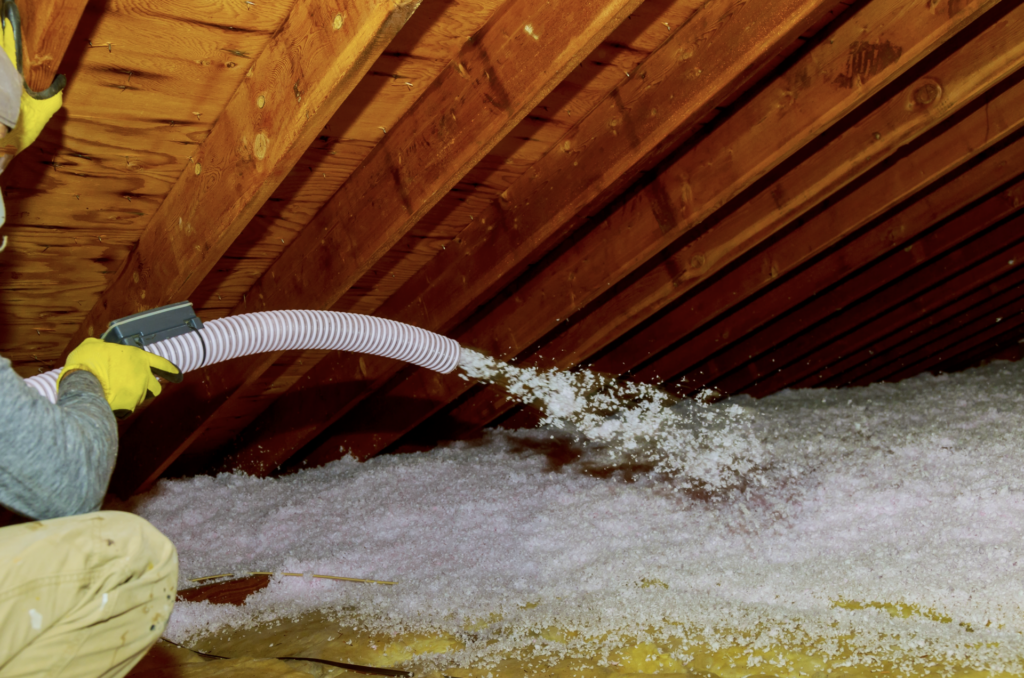 Are you looking to save on energy costs? Are you concerned about the comfort level in your home? Do you want to ensure that your home is protected against temperature changes, noise, and fire? We are more than a restoration company, we are helping homeowners in every way possible, this includes blown-in insulation for homes that are losing their energy efficiency.
Our team of technicians specialize in installation of fiberglass insulation into attics and other hard-to-reach areas using cutting-edge technology. With this method, we can cover large areas easily and accurately by precisely measuring out the depths of insulation required. And with our expertise and experience, we can complete projects faster than most competitors – typically only taking us a day or two for two technicians to blow an attic with insulation.
What is Blown-In Insulation?
Blown-in insulation is one of the most effective ways to improve energy efficiency in your home. Not only does it decrease your monthly utility costs, but it can also significantly reduce the amount of outside noise entering your home and increase comfort levels.
Blown insulation consists of loose fill fibers that are blown or sprayed into walls, attics and other areas, creating an airtight seal to prevent air leakage. It is typically made from materials such as cellulose or fiberglass, which provide superior insulation than traditional batt insulation methods. When installed correctly, blown insulation can create an effective barrier against temperature changes inside the home, resulting in more consistent temperatures throughout the year and improved indoor air quality. Additionally, it provides a higher degree of fire resistance compared to other types of insulation. By investing in blown insulation you'll experience immediate heating and cooling energy savings while also making your home more comfortable and safe for years to come.
Serving Parts of Indiana and Ohio
At Trident Restoration, Inc, we put a large emphasis on adhering to the latest state guidelines for insulation. We service both Ohio and Indiana, which requires us to have an in-depth understanding of insulation requirements in order to ensure that all homes meet their respective state's minimum requirements. In Ohio, we use high-quality fiberglass insulation, with a minimum rating of R49 (17″), while in Indiana, we use R38 (13.5″) as the minimum rating. With our expertise and knowledge, you can trust that your home will be properly insulated and ready for the cold winter months!
If you'd like to learn more about how blown-in insulation can benefit your home, contact us today for a free consultation. We'll walk you through the process and make sure that your home meets local building codes in terms of insulation depth and safety requirements. We can also provide removal services if contaminants have infiltrated the existing insulation in your attic or other areas of the house.